South Bank, Brisbane is a great place to visit year-round, with lots of fun things for families. From swimming in summer to eating out during springtime and wandering through markets in winter—the focus is on family-friendly activities. However, parking – especially cheap parking- in South Bank can be a little tricky.
We have collected all the parking and transport information for South Bank into one place to make planning your adventure easier.
South Bank has four key precincts, each with their own distinct personality. Little Stanley Street and Grey Street are alive with energy and packed with casual dining and cafes; The South Bank Cultural Precinct has something to suit all ages; Stanley Street Plaza has a mix of relaxed cafes and bars; and River Quay is fine dining at its best. We have found you parking in all four.
Here at Oscar, we offer many parking options around South Bank Brisbane both secure and undercover, but there is also the option of street parking. Below we have put together a map with the key parking areas in the South Bank: the Garage on Boundary St, Carport on Brook St and the Parking Lot on Browning St- only minutes away from Kings Park Apartment Complex, Southbank.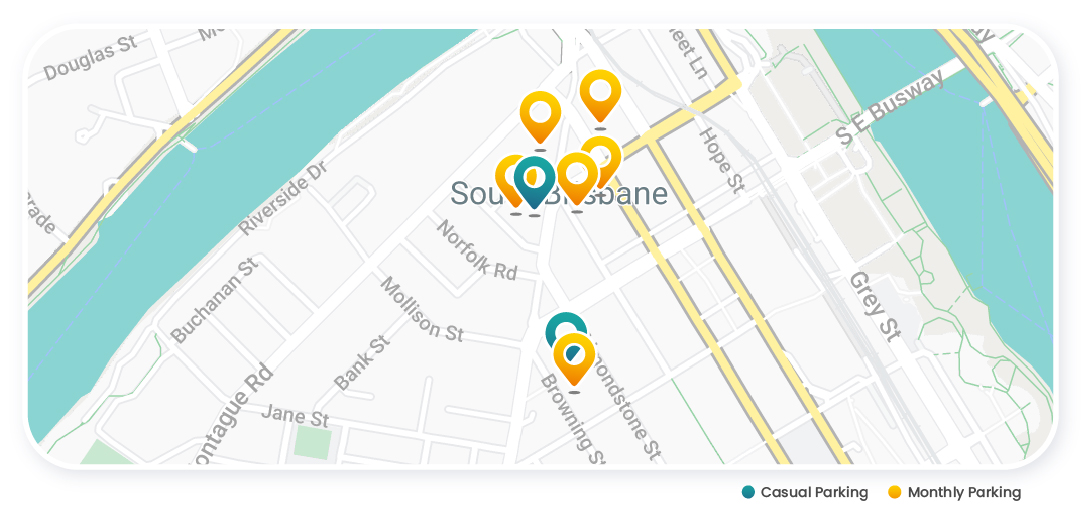 Garage on Boundary St
Where:Boundary St, South Bank
Vehicle Type:4WD/SUV
Access Method: Remote / Swipe Card
Hourly Flat Rate Casual Parking – only $5/hour – Evening Parking and Weekend Parking! Close to Brisbane Convention and Event Centre. Book at least 1 hour in advance to allow for time to receive the pin code for entering the car park. The pin code will be sent to your email once you've booked. 2.1m Height Restriction.
Find Parking on Boundary St here
---
Carport on Brook St
Where:Brook St, South Bank
Vehicle Type: 4WD/SUV
Access Method:Full Access
Hourly Flat Rate Casual Parking – only $6/hour! Only 200m to Southpoint Woolworths and Southbank Train station! Also very close by to Lady Cilento and Mater Hospital. 24 hour access.
---
Parking Lot on Boundary St
Where: Boundary St, South Brisbane
Vehicle Type:Van
Secure Parking available in a prime South Brisbane location. Short walk from the State Library, Queensland Museum and the Brisbane Convention & Exhibition Centre.
Find Monthly Parking on Boundary St here
---
And it's as easy as that – Congratulations, you've found parking in South Bank, Brisbane! According to an Australian study, 21 percent of drivers say they are willing to drive around for more than 20 minutes looking for a parking spot. That can add up to about two days wasted per year for the average commuter. Save yourself time and make sure that you are not just another statistic.
Book your parking with Share with Oscar!
---