What you should know
'Balance for Better' is the theme for International Women's Day this year. A reminder for us all to acknowledge and celebrate women's achievements; raise awareness against bias and; take action for equality. In this week's blog our founders, Lisa Qi and Louise Chen, two female entrepreneurs and ex-corporate women would like to use this forum and the IWD platform to amplify the voice of female-founders, and raise awareness of the challenges that female entrepreneurs face. You've seen our emails, the mobile app, and the Oscar community, but there are two fiercely passionate and resilient females behind Share with Oscar.
---
Celebrating women's achievements
Today is a day where we highlight the achievements of women, and whilst you'll rarely find our founders Lisa and Louise tooting their own horn, I want to use this opportunity to celebrate some highlights and achievements from the last 12 months that we're immensely proud of. Our founders were both awarded 'SmartCompany's 30 and 30', won the Best Mobile App Startup at the 2018 Australasian Startup Awards, went through Australia's leading Startup Accelerator Program, and have tripled the business in the last 12 months through sheer grit and determination.
And whilst immensely proud, we want the emphasis of this article to be on raising awareness about the biases that female founders face, and how we can take action for equality to make a real difference.
---
Raising awareness against bias
There are countless stories of the biases female entrepreneurs face when starting or running their business; female-founded businesses who had to invent a completely imaginary male co-founder and email address under which they did business with investors and vendors because that was the only way they felt they would be taken seriously; a mentor of ours received a funding offer contingent on a male CEO being hired, and the constant biases faced by females being ignored and overlooked in meetings and boardrooms. We have hundreds of anecdotes that we have personally faced, but we'll just let the data and the numbers speak for itself.
Despite female-founded businesses accounting for more than a third of all startup companies, female-founded businesses received just 2.2% of total funding last year. To give some perspective, a headline by Inc. captured it nicely, "In 2018, all female founders put together received $10 billion less in funding than one e-cigarette company, Juul, took in by itself". Meanwhile, all-male teams received 76%, of the total $130 billion invested in 2018, and companies with at least one female founder received 12% of last year's venture capital (a number that includes the 2.2% that went to companies with exclusively female founders). Funding is what helps businesses grow and thrive, and is often the difference between success and failure or persevering or pulling the plug on a business, and the fact that female-led businesses are overwhelmingly under-funded is another barrier for females to pursue their own business or grow their business.
The overwhelming disparity in funding has also been attributed to the under-representation of women in VC. Globally women comprise just 8% of VC partners, whilst in Australia, less than a third of VC firms have a female partner. Further research published by the Harvard Business Review examined the interactions between prominent venture capitalists and entrepreneurs which showed men and women were asked very different questions for funding. Male entrepreneurs were overwhelmingly asked promotion-orientated questions that focused on hopes, achievements, advancement, and ideals. By contrast female entrepreneurs were asked prevention oriented questions, concerning safety, responsibility, security, and vigilance. Meanwhile a BCG report has found that female-founded businesses delivered higher revenue – more than twice as much per dollar invested than those founded by men, making female-owned companies better investments.
---
Taking action for equality
We know there are biases, and there is alarming evidence of that, now how do we take action?
"Support for female founders", "Boost female entrepreneurs" – we hear about it, there are forums and panels talking about it, there are networks supporting it, knowledge resources and workshops focusing on it, a day dedicated to shedding light on it, and many more people paying lip-service to it. We're moving in the right direction, sure, but unless we quite literally put our money where our mouth is, and start funding more female-led businesses, enforcing pay-parity in the workforce, seeing more women in leadership, and actually act on it, then the real, tangible, impactful change and the true empowerment of women will be a slow journey. More support and funding for female founders will inevitably inspire and empower more women to enter tech and start their own businesses.
Just last week I attended an investment conference for investors and entrepreneurs. It was a packed room all morning, when the next topic was announced "Founders, Investors and CEO's – a Female perspective", 80% of people in the room vacated. It was such a silent and yet so loud of a statement, that I decided to capture it. Nevertheless, we still decided to name the title of this blog, 'Our Female Founders' Perspective' in the hope that you, the reader, will resonate with it.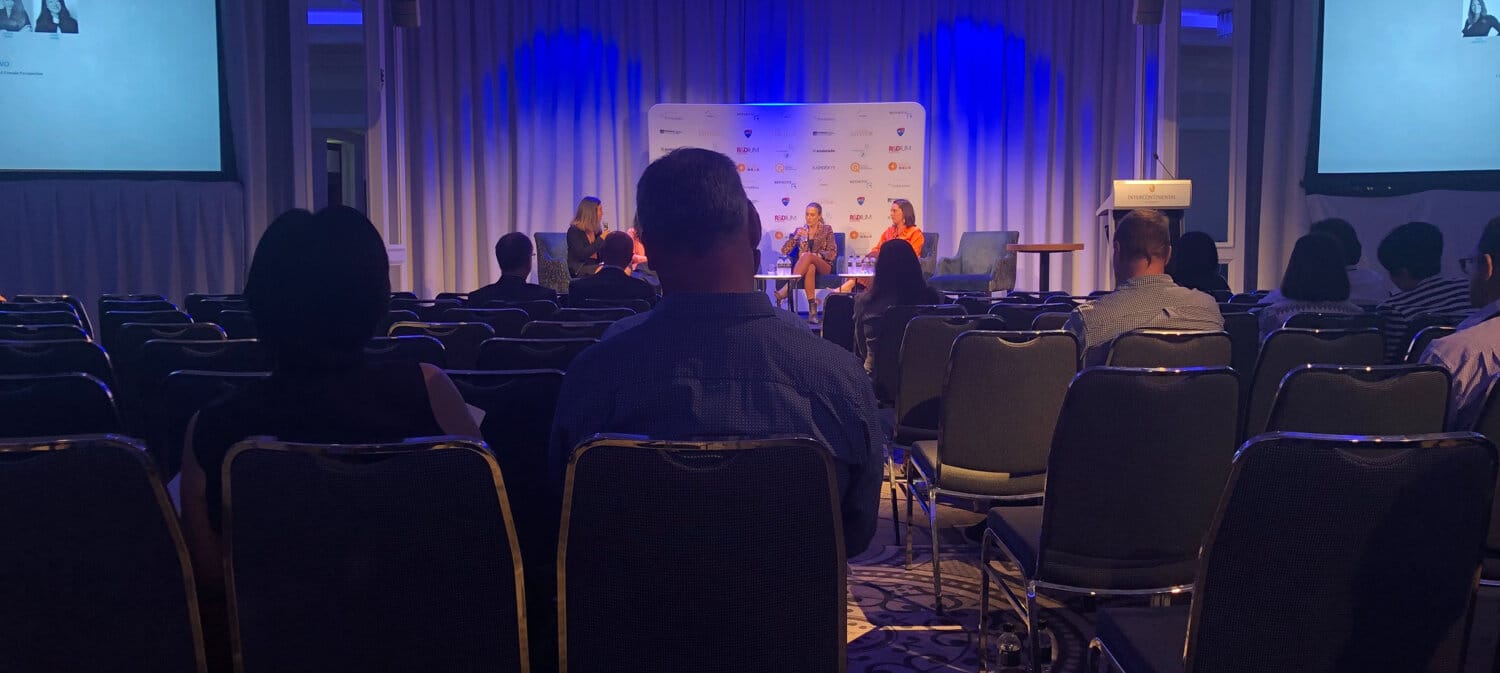 This room was full just 2min earlier, until the topic announced was "Founders, Investors and CEO's – a Female perspective' Kudos to the men and women who remained in this talk who wanted to hear a female's perspective.
Now. Quotas. – gender quotas, diversity quotas. I hate that term. As a female founder, I want to be rewarded on merit, and not just given extra bonus points for being female. It's sad and a real shame that we need mechanics like 'quotas' to boost the underrepresented. But if that is the way to jumpstart the movement, and bring more underrepresented groups to the forefront where they can truly influence, and demonstrate their capability, and set an example, then so be it for now. I hope that one day, to see true balance and equality, we won't need quotas.
Right as of now, the startup ecosystem for women is going through a period of progressive change. Whilst it's definitely encouraging, there is still so much more that we can all do. #BalanceforBetter.
---